Fashion
Top 15 Latest Bridal Mehendi Designs To Try Now
If you are an Indian, we are sure that you are also always celebrating something. Like, we can say that it is a specialty of India and all the Indians. We are never out of reasons to celebrate. First of all, there is no specific wedding season. Yes, in some months the weddings count exceeds the number in other months, but there are always weddings going on. And, if in case weddings are on a hold for a little while, it would most probably be because we are celebrating some grand festival season.
And when we talk about Indian celebrations, a few things come along with it without saying. Families get together, extravagant and vibrant decorations, years old traditions, dance, music, masti and above all, the food; Indian celebrations are just incomplete without these things. When we talk about age old traditions ofo our country, the list is very long.
There are so many cultural traditions that we have inherited from our ancestors and are still sticking to. These traditions are the pride of our celebrations, be it wedding celebrations or festivities. One such beautiful tradition of our country that has become popular in other cultures as well, is the tradition of applying beautiful henna on hands and feet. Applying henna is a part of all the big Indian festivals as well like diwali, karwachauth etc., but here we are specifically talking about our pretty brides.
For a Bride
An Indian bride is never complete until or unless she is adorned with beautiful henna designs. Traditionally, Indian brides apply henna on both hands as well as feet that gives them a complete and dreamy wedding look. However, these days many brides love the minimalist styles and hence either don't apply henna on feet or go with very simple patterns.
With the increasing trend of mehendi throughout the globe, mehendi designs have reached another lever. From floral, to customized and many more, mehendi designs are available in many different and adorable styles. You can chose from these hundreds or thousands of designs. But, this creates an issue sometimes. It becomes very difficult to find out different latest designs and then narrow it down to one.
So, if you are also a bride to be in search of her perfect mehendi design, here we are with a list of the best latest mehendi trends that will enhance your bridal day look.
1. The floral trap!
This design is perfect for those brides who want a minimalistic yet very pretty and classic mehendi design. The traditional jaali design of mehendi has always been a favorite in bridal mehendi. It covers up your hand without being too extra or heavy. Plus, the jaali design looks fabulous on the back of your hand as it gets visible in your pictures more than your palm.
And in order to add some extra grace and extra power to your bridal jaali mehendi design, what is better than flowers? The combination of jaali design and floral look extremely pretty and will give you a statement look.
2. Old is gold!
The traditional Indian bridal mehendi is one of our favorites till date. The filled up arms look adorable on brides. Traditional Indian bridal mehendi designs are generally filled up with many crowded designs which look just perfect together. The design might include flowers, elephants, peacocks, a little dot work here and a little mesh work there and a lot of other stuff making it look just the perfect design.
Such mehendi patterns are just the right choice for the brides who want a traditional and royal Indian look for their mehendi. These patterns generally cover your arms to a higher level as compared to the newer ones.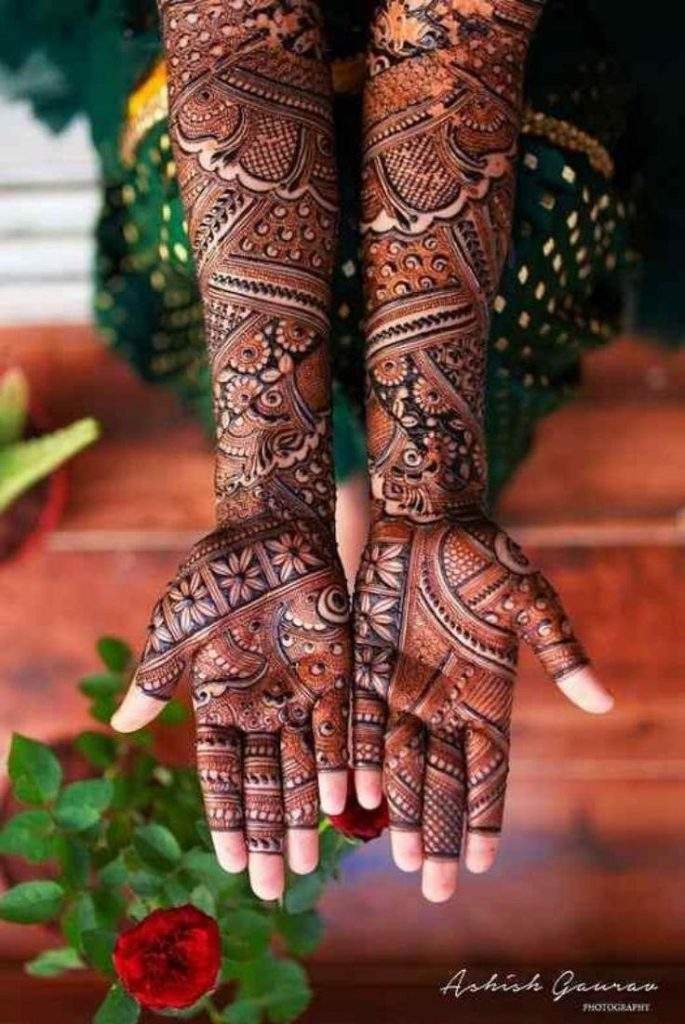 3. Fill it up with florals!
Florals are the most loved element in weddings. From decorations to bridal hairstyles, outfits, varmala and what not, florals have taken over the game. So why leave this trend behind when choosing for your perfect mehendi design?
Floral mehendi designs look just amazing. Moreover, these days the mehendi designs that cover your almost full arms with floral patterns are very much in trend.
These give you the right bridal feeling by making your mehendi design unique and grand.
4. Arabic Mehendi Designs for brides!
Some brides don't want to cover their full skin with mehendi. They do want to apply mehendi on their arms in length but want a little skin to peek out.
This design of bridal mehendi is perfect for our minimalistic brides who want a traditional mehendi touch in a minimalistic way.
Arabic mehendi design is no new concept. It has always been around from ages and is loved by everyone. This is also a good idea if you are a working woman and need to resume work after two to three days of wedding and don't want the henna to look too much then.
5. The pretty finger tips!
Another very chic and stylish way of doing this henna tradition in a simplistic manner is going for the pretty finger tips mehendi designs. These are very simple, elegant and pretty trends in mehendi business.
These mehendi designs are also just perfect for the bridesmaids. The fingers are covered in beautiful designs of mehendi and the rest of the hand is left without applying any mehendi. This pattern accentuates the unique mehendi design. This is perfect when you accompany it with some beautiful set of bangles on your wedding day. The fingers adorned with beautiful mehendi would look lovely and no henna on arms would enhance the grace of your bridal chuda.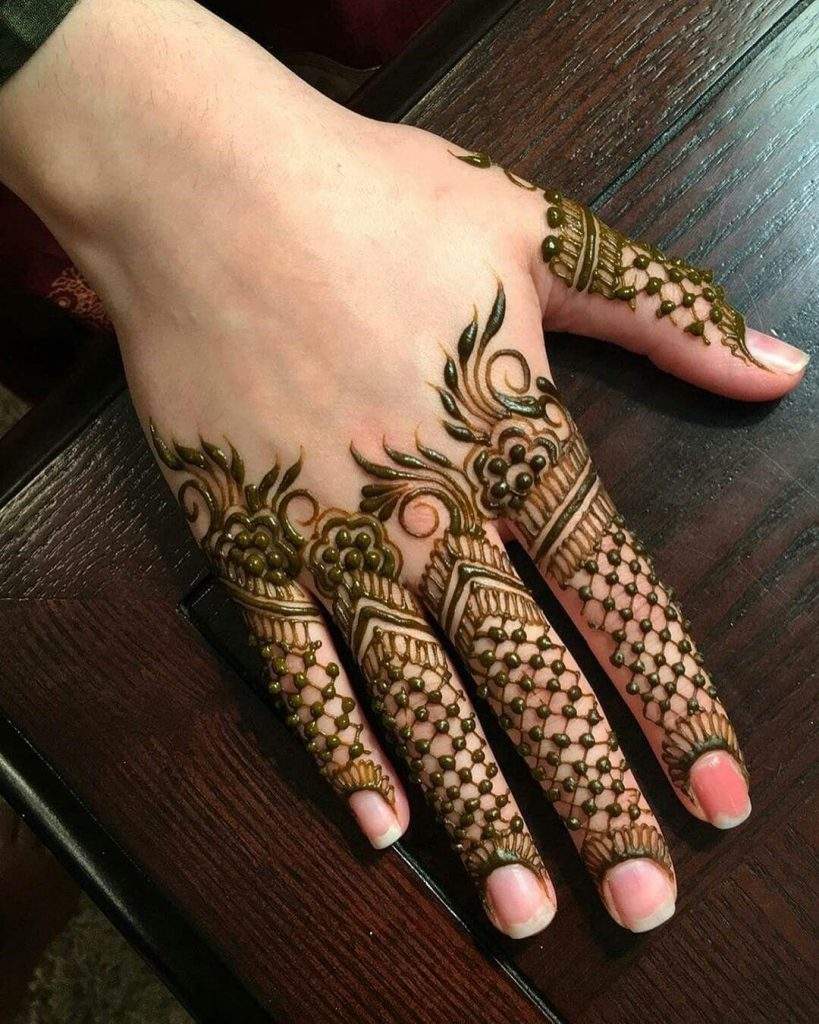 6. The grand entry!
The grand bridal entry under a flower bed carried by the brothers of the bride has become a very famous trend these days. It looks just mesmerizing for the bride to enter under the shadow of those beautiful flowers of the flower bed and along with her lovely brothers.
Designing the various events of the wedding onto the hand of the bride with henna has always been a trend. So, this design is one of those trends.
The beautiful depiction of this bridal entrance through the mehendi is nothing less than perfect.
7. The deck of cards!
Are you a bride who loves to play cards or enjoy doing it? If not you, does your husband loves the game of cards? Or if you just love the concept of it?
If the answer for any of these questions is yes, then this bridal mehendi design is going to take your heart away for sure.
The touch of royalty that a deck of cards and its patterns provide is just out of the league. It looks amazingly stunning. The theme of cards gives an elegant look to the bridal mehendi.
The bride and groom beautifully created in these cards by the artist adds another level of grace to the entire mehendi design. It is like a combination of the modern day and the traditional mehendi design.
8. Geometric elements to make it better!
Whether it is paintings, tattoos, mehendi or any other piece of art; adding a hint of geometry is always a good idea.
Geometrical shapes give the design a neat look that attracts the eyes of every person.
The only catch with geometrical bridal mehendi designs is that they need to be just perfect. You should get it done from a mehendi professional who can take the lines and other elements straight and clean. These patterns look fabulous on the hands of the pretty brides if created properly.
9. The sindoor mehendi design!
Sindoor daan or the moment when the groom puts sindoor in his bride's forehead is one of the most important and lovely parts of an Indian wedding. The sindoor is seen as a sign of a woman being married. It is seen as something very special for a married woman.
This bridal mehendi deisng depicts the beauty of this perfect moment in the perfect way. This sindoor daan bridal mehendi design looks just mesmerizing and you can totally go for it!
10. Another wedding moment!
Another important part of an Indian wedding ceremony is the varmala ritual. In the varmala ceremony, the bride and groom put beautiful flower made long necklaces into each other's neck and begin their pure bond of love and marriage.
The bridal mehendi designs depicting one of the wedding rituals looks aesthetic and traditionally enriched. It gives you a statement look. So, brides if you want something unique showing the rituals of your wedding ceremony go ahead and pick this design without a doubt.
Just look how beautiful this artistic design looks on the hands of the bride. The varmala ceremony, kalash, shehnai and nagade; every small detail is priceless and makes the mehendi design out of the world.
11. Tell your story out loud!
Our love story always holds a special place in our hearts. The first time when you met your husband to be, the first outing, the first special moment, the first official date, the time you guys confessed love to each other and all other firsts whether big or small, they all are important and mean a lot in a relationship. Especially when you are finally getting married, everything comes flashing back like a romantic movie.
So why not make your unique love story a part of your wedding ceremony. The customized bridal mehendi design depicting the love story of bride and groom is the latest trend and we have to say that it took away all our hearts.
It feels so personal and special to get your love story designed on your hands for the special day from the first meeting to the engagement; everything that you want can be added.
12. Show your love for Disney!
Many of us girls grew up crushing over the Disney movies. The idea of a prince charming coming on adorable white horses to take their pretty princess away for a happily ever after struck our hearts, right?
So, if you are also one of the Disney movies fans and want to live your own fairytale on your wedding day, why not add a hint of that fairyland to our bridal mehendi as well?
The Disney themed mehendi designs are one of our current favorites. They look extremely adorable and eye catching. Also, this mehendi design or theme is a relatively newer one so it will look unique and out of the box.
Pick whatever attracts you or whichever Disney couple you like the most. Like, this bride chose to personalize her bridal mehendi with Prince Ali and Princess Jasmine from Aladdin.
And then there's this one with another cute Disney couple glorifying the mehendi design.
13. Bangle design bridal mehendi !
Brides and bangles is a very good combination isn't it? If you also think so, then here is an out of the box way to take your bangle game to the next level for your wedding.
Why stick to the mainstream bangles when you can switch to a better way? Get a beautiful bangle design mehendi on your hands and we are sure you will love it. It looks so chic and also gives a different touch.
This mehendi design is perfect if you don't want a very heavy mehendi design but want to cover your arms in a stylish manner.
14. Portrait bridal mehendi designs!
Another mehendi style that tops the list is the portrait mehendi designs. These are one of their kind. Who doesn't like making their loved ones feel special?
You can make them feel that they are on the top of the world by adding their personalized portraits on your wedding henna. You can get a portrait of whomever you want or who ever you feel means the most to you. Some brides get a portrait of their parents on their hands while others go with a portrait of her and her fiancé's picture. It could be your pets, your friends. Brother, sister or even your favorite god.
15. The studded beauty !
Another amazing design that is gaining popularity these days is the studded bridal mehndi. There is no limit to the amount of bling allowed for a girl on her wedding day. You can be glowing and shine as bright as you want. From extravaganza wedding dresses to eye-striking jewelry pieces, everything on your wedding day is special. Make your bridal henna a little more special and grand as well by adding small studs or stars to it that would shine out loud just like you on your special day.