Entertainment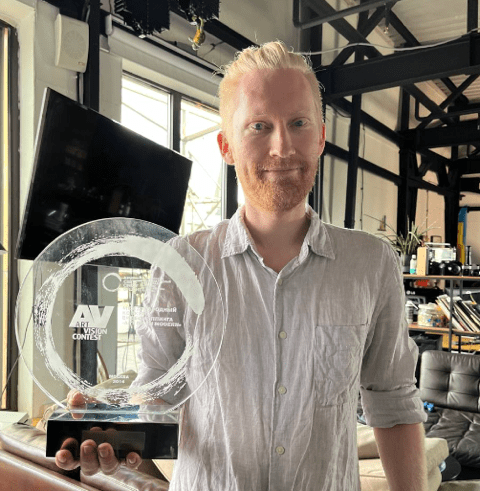 Zheeshee Production Takes Living Art to the Next Level
Art is never stagnant. Only the imagination of those involved in its creation can limit it. While the canvas and tools evolve with time, the forward momentum never ceases. Executive producer Nikolay Gavrilov has led his team at Zheeshee Production to manifest modern marvels of wonderment that are presented via the most advanced means upon the canvas of immense works of architecture. At various mapping festivals, the creatives at Zheeshee have transformed the exteriors of buildings into vehicles to transport, fascinate, and inspire. Leading this new artform, Zheeshee Production wields equal portions of creativity, technological mastery, and a cultured sense of history & philosophy that is present in their work. Transfixing visually and ranging from comedy to dramatic solemnity, their productions are always emotionally impactful. Under the leadership of Mr. Gavrilov as executive producer, Zheeshee has garnered numerous recognitions including a special prize at Silver Mercury Awards for "League. Lenta" (2021) and "Ded Mimoz" (2022) commercials, an award at Medmenfest Festival (in the Social category) for the "Decrease the distance" videos, and the Best Corporate Video Award for "Fire Carrier, Dmitry Pavlov" for Coca-Cola Hellenic. Even so, Zheeshee's commitment to live productions remains constant, attesting to the company's enduring ethos of diverse creativity.

The creations of Zheeshee Production for various mapping festivals can be most accurately described as experiential and immersive rather than narrative. These productions are quite simply hypnotizing. Earning an award for "Art Vision Modern" at the Circle of Light Festival (2014), Zheeshee wowed the crowd with a pulsing giant boombox that is intruded upon by an actual human. Gavrilov informs, "We tried to add meaning to our installation according to our corporate philosophy. We made a lyrical hero who has to walk on the surface of the pavilion and destroy the geometry, because he is tired of meaningless mapping."
In 2016, Zheeshee presented an ambitious offering based on the on the great novel of Nikolai Gogol's "Dead Souls". Projected on the iconic Bolshoi's theatre façade, this production utilized key characters from the novel and created bright scenes, using unexpected images and metaphors. The gravitas of this is palpable even when viewed online.
Berlin's Festival of Lights (2017) bestowed a 1st place (jury prize) and 2nd place (Grand Prix) award on Zheeshee's fatalistic video which presented the end of humanity by such happenings as great floods and a robot apocalypse, all to the soundtrack of an awesome beat.

The concept was clear, when the end comes for us all you might as well make a party out of it. This dichotomy testifies that there is as much artistic temperament in the concept of these productions as in the manifesting of them. Nikolay declares, "I have been working as a producer for more than fifteen years. I like this job because it combines creativity, management and finance. I do not sit in one place, but I am constantly improving and discovering new horizons for myself. In the process of work, I communicate with a lot of different people and visit different places. I am interested and not bored to live. Producing allows me to be at the very center of the production process. I see the benefits of my work both for my company in particular and for society as a whole."
Writer: Jeffery Kallaher