Fashion
Tips And Tricks For A Winter Wedding
Winter Wedding-Weddings is a great affair or shall we say that weddings are the biggest affair of a person's life, especially in India. For us, weddings are not just a function instead; they are a joyous moment that the people involved in it are going to cherish lifelong. And as an Indian wedding holds such a pertinent position in the lives of people, the preparation for weddings takes almost forever.
Time is not the only thing involved in wedding planning. Planning a wedding requires consistent efforts and continue preparations for a long time. Everything from the guest list to food, decoration, theme, rituals, etc. has to be taken care of.
There are many different factors that affect the way you begin and deal with your wedding preparations. One such factor that has a major role in deciding what kind of preparations and shopping you need to do is the season you are getting married in. There are so many things at a wedding that completely depends on the weather during that time. For e.g. food or menu list is narrowed down according to the weather in which the wedding is going to be held. For a summer wedding, you need to keep cold drinks, mocktails, etc. in your menu list whereas for a winter wedding you will rather pick up hot items and beverages.
In the same way, wedding shopping also depends a lot on which season you are opting for your wedding to happen. Well, people most often decide and desire to fix their weddings in winter. The weather is beautiful and perfect for those heavy outfits. But, at the same time, there are many issues or things that you need to see through while planning for a winter wedding.
So, if you are also getting married soon in the coming winters, here are the best tips and tricks for you to assist in your wedding shopping.
● Choose the right colors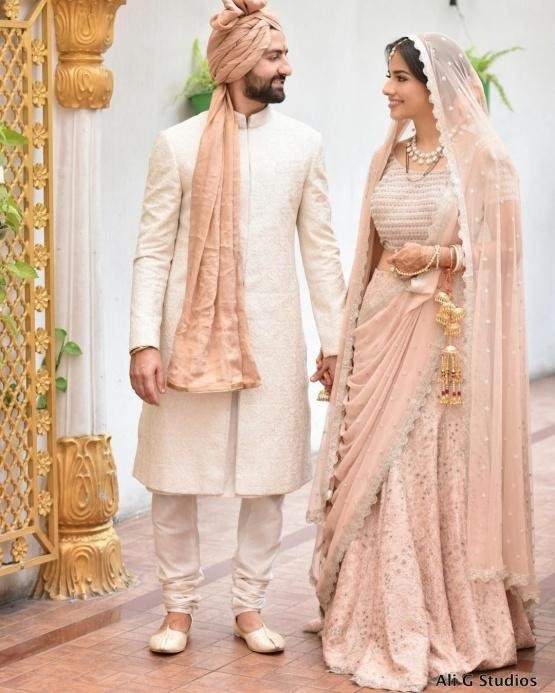 You need to be much more conscious about the colors of your attires at a summer wedding. However, it is important to look into it for a winter wedding as well. soft and light shades are in the trend these days. So, pick up such colors. Go with lighter, pastel shades for your lehenga and for your better half's attire.
However, if you are someone who loves brighter and darker shades, you need not worry as winters support them as well. You can easily go with dark shades for a bridal lehenga and groom's outfit in a winter wedding.
● Choose the right fabrics
Well, it is going to be chilling in the night or evenings if you are having your wedding in the proper winter months. So, make sure you pick up the fabrics that will keep you snug during the ceremonies. After all, you don't want to kill the energy due to shivering cold.
Brides generally make the mistake of picking up sheer fabrics of bridal outfits for a winter wedding which later turns out to be regret for them. so, the best option is to pick fabrics like silk or velvets. Such fabrics will keep you snug by providing heat and save you from the chilling breeze.
For the groom as well, look for clothes that have few extra layers or are made in some thick fabric.
● You will need to invest in winter essentials!
When going to get married in winter, don't forget to put some extra money into buying a few essential winter clothes. For instance, as a bride that is going to get married in winters, make sure to invest in a nice bridal shawl. The shawl won't only keep you snug but would also enhance your bridal look. shawls are very much on the hit trend list for bridal wear and look extremely classy.
For the grooms as well, keeping a shawl on one shoulder is a great idea. It will give you a dashing look and who knows when you might need to use it?
Other than a shawl for the main day, buy a few shawls or cardigans or whatever you like and suit your outfits. It is important to look after being healthy and safe from the winter breeze before and after the wedding as you don't want to compromise with the fun just because of a cold or something related to it.
● Décor!
Well, in a winter wedding or a summer wedding, the options available in décor are infinite. You can look for months and they still won't end. However, one of the best themes or décor ideas for a winter wedding is to add nature into it.
Ask your wedding planner for a natural breezy décor including several flowers. White flower décor looks stunning in a winter wedding. Add leaves, colorful flowers, baby's breath, and all the natural beauty you can. Also, adding a few candles or lamps with proper safety will make the décor even more stunning. It won't only look good but it would also make your wedding photographs look more lively and attractive.
● Keep it minimal!
We agree that there was a time when heavy embroideries, heavy work is done on heavier lehengas were associated with Indian brides. But, the time has changed and so is fashion. Nowadays, minimalistic looks are what rock in wedding affairs.
Keep your look to a simpler end. Pick up attires that are not overloaded with work. We agree that bridal outfits need to be a bit shiny and eye-catching. But trust us, it is not worth getting laid down that kind of weight of those attires. Instead, pick dresses that look simply perfect. Handwork, for example, is very popular in bridal outfits these days and is very light and breathable. So, look for such outfits that make you comfortable all through the ceremony.
Check out this amazing article on how to use hair extensions.