Everest Base Camp Trek Detailed Itinerary
Everest base camp trek is a 12 days round trip from Kathmandu to Kathmandu. It begins with a short scenic flight to Lukla. A small aircraft takes you to Tenzin-Hilary airport from Kathmandu every morning to start the hike. Most trekkers are following a 12-days trekking itinerary, but it can also finish in 9-days.
Helicopter return Everest base camp trek has the 9-days hiking itinerary. You will follow the same itinerary as the 12-days one up to the base camp, then fly out on a helicopter from Gorakshep after the base camp. Here, we are going to talk about the 12-days trek itinerary on this post. And it makes it easy to find where to travel according to your plan.
Day 01: Fly to Lukla (2,840m) and trek to Phakding (2,656m) 3 hours
You will fly early morning from Kathmandu on a small aircraft to Lukla. Flying for about half an hour, you will land at Tenzin-Hilary airport and start walking to Phakding. It takes around 3 hours to Phakding from Lukla. You will pass a few traditional Sherpa villages on the way. It is an easy day because it is your first day on the trip.
Day 02: Trek to Namche Bazaar (3,440m) 6-7 hours
The second day of the trip is long. After breakfast at your lodge, you start the journey following Dudhkoshi river valley. After crossing a suspension bridge, you will walk to Banker and cross another bridge. Then, you will reach Monjo and issue the national park entry permit. After that, you will have a lunch stop in Jorsalle and trek another 3 hours to get to Namche crossing the highest suspension bridge and climbing part.
Day 03: Rest Day in Namche Bazaar (3,440m) and hike to Everest view hotel (3,880m) 4 hours total
It is your first-day altitude practice rest day during the Everest base camp trek. After breakfast, you will hike to Everest view hotel, which is around 4 hours hike in total from Namche to Namche. You will pass a rough airport (Syangboche) on the way.
Everest view hotel is a luxury lodge in the Everest region. You can have hot drinks in this lodge and enjoy the magnificent views from there. You will see Kusum kangaroo, Thamserku, Khangteka, Amadablam, Everest, and more high mountains from this place. After enjoying the view, you will hike back to Namche. Or you can also visit Khumjung village before getting back to Namche.
Day 04: Trek to Tengboche (3,860m) 5-6 hours
After spending two nights in Namche, you will trek to Tengboche today. After walking about 2 hours and a half to 3 hours to Kyanjuma via a nice and clear trail, you reach Sanasa and start descending to Phunki-Tenga. Here, you will stop for lunch and start ascending through pine and rhododendron forest to Tengboche.
Tengboche is on a hill station from where you can see stunning mountain views. You can also visit an ancient historical Buddhist monastery in the evening or morning at the offering time.
Day 05: Trek to Dingboche (4,410m) 5-6 hours
After enjoying the view of Amadablam, Everest, Lhotse, Nuptse, and more in the morning, you will walk to Dingboche. You will descend about 20 minutes to Deboche and walk on a flat part inside the forest.
After crossing a suspension bridge, you will ascend for about half an hour to Pangboche. Somare is the next place from Pangboche, where you have lunch. Then, you will walk another an hour and a half to Dingboche.
Day 06: Rest day in Dingboche (4,410m)
It is your second rest day for the altitude practice. After breakfast, you can hike to either Chhukung or Nangkar-Tsang hill. Most hikers hike to Nangkar-Tsang hill because it is the higher elevation for an acclimatization walk.
Day 07: Trek to Lobuche (4,910m) 5-6 hours
Today, you may feel altitude on the way to Lobuche. There is less oxygen in the air and high atmospheric pressure. After walking on the ridge for about 2 hours and a half to 3 hours, you reach Thukla and stop for lunch.
There is a steep part from here to the top of Thukla, which may take around an hour to climb. You will see lots of memorials of past climbers at this top. You will hike another hour to Lobuche from this top.
Day 08: Trek to Gorakshep (5,180m) 3 hours and hike to EBC (5,364m) 5 hours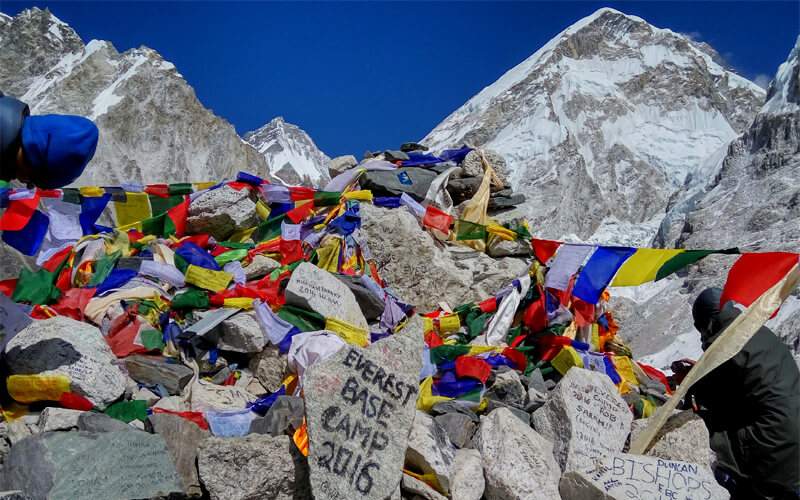 You normally start the day to walk around eight in the morning, but you will start early around 7 am. It takes about 3 hours from Lobuche to Gorakshep, and you will have quick lunch. After that, you start the base camp hike, leaving your baggage in the lodge. Then you will hike back to Gorakshep for the night.
Day 09: Hike to Kala Patthar (5,550m) 2 hours and trek to Pheriche (4,210m) 5 hours
You hike Kala Patthar early morning with a flashlight this morning. The Everest looks very near to this hill and offers 360-degree mountain views all around you. It takes around 2 hours to get to the top and will be very cold temperature. After enjoying the view, you will return to the lodge. Now, you will have breakfast and trek to Pheriche.
Day 10: Trek to Namche Bazaar (3,440m) 7 hours
Pheriche to Namche Bazaar is a long day trek. You will pass Soare, Pangboche, Tengboche, and other towns, which you would have passed on the way up. You can enjoy visiting coffee shops and bars in Namche Bazaar in the evening.
Day 11: Trek to Lukla (2,840m) 7 hours
It is your last day of the Everest base camp journey. It takes 7 hours descending walk to Lukla, which you had two days on the way up. You will arrive in Phakding for lunch and trek another 3 hours gradually ascend. You can celebrate your last night's stay in the mountain by visiting coffee shops or bars in Lukla.
Day 12: Fly to Kathmandu (1,350m) 30 minutes
You will have an early morning flight to Kathmandu today. You will arrive in the city with lots of beautiful memories from the top of the world.
The trekking itinerary mentioned above is regular, and most trekkers are following. Two days altitude practice days are required, but some trekkers take only one day rest if they have not enough time or regular hikers. Hopefully, you have got detailed information of the itinerary in this post and made it easy to plan your Everest base camp trek easily.