Home Improvement
5 Useful Remodel Ideas for Small Bathroom Space
Are you looking to take on a bathroom remodel project in NYC? It can pose so many challenges for every homeowner, especially if you're updating a small bathroom. You may feel constricted by the small space and your budget.
Fortunately, with the right planning and reliable bathroom remodel contractors, you can easily transform your small bathroom space. Here are a few useful ideas for remodeling your small bathroom:
1. Use a Fresh Paint.
Adding a fresh coat of paint can refresh a room instantly and make your small bathroom appear larger as well as more spacious. You can consider a bright or neutral color. Even choosing darker colors can make your small bath appear cavernous. While painting, you should give your vanity a new coat of point. White color can make your vanity pop whereas grey color can give you a fashionable, cottage like look.
2. Consider Built-In Cabinets.
While remodeling your bathroom, you should always focus on utility and simplicity. Even if your bath space is small, you probably have a wall or corner that would be perfect for built-in shelving. Consider adding custom shelving units that will give you access to towels and other necessary things instantly. They are much easier to clean up rather than a free-standing unit.
3. Focus on Flooring.
Even if you've a small bathroom and are on a tight budget, you can install eye-catching flooring. The shortage of square footage gives you enough room to play with limited budget. You can choose a modern tile or splurge on heated floorings. When you invest in new floors, you can freshen up your bathroom and add a touch of luxury to it.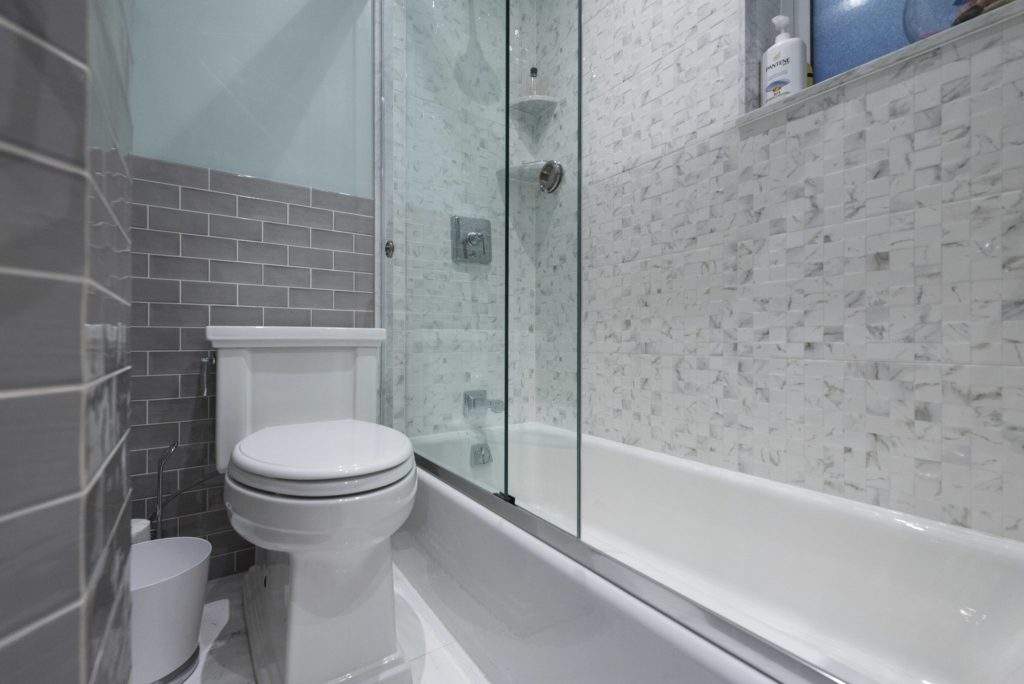 4. Invest in the Glass Illusion.
A traditional shower curtain can make the small bathrooms appear much smaller than they are actually. When planning your small bathroom remodel in NYC, install a walk-in shower with a glass door to open up the bath space instantly. In addition, glass is much easier to clean and remains mildew-free than a shower curtain.
5. Try to Use Small Fixtures.
It's suggested to look for compact fixtures to maximize the interior space in your bathroom. This way, you'll be able to create a modern and streamlined sculptural look. However, smaller fixtures are less costly than the larger ones. You should work with a noteworthy bathroom remodel contractors to purchase the right fixtures to bring in a cohesive feel to your bath space.
Important Tip – Consider Long Term Savings
If you're on a tight budget for bathroom remodeling, you should change your perspective. You can spend on low flow and energy saving bath fixtures, that will help you save more on your utility bills. You can consider DIY project for the paint and work with a reliable bathroom remodeling contractor. This will result in long term savings that will keep your budget in check.
Final Consideration –
If you're a homeowner with small bath and tight budget, you may shy away from considering a bathroom remodel project. In reality, there are endless arrays of ways available to update your bathroom without spending fortune.
Choose your design and the remodeling team like MyHome Design & Remodeling to maximize the functionality and look of your bathroom that you've always dreamed of. Our expert bathroom remodelers are available to help you from beginning to end. Feel free to contact us as soon as possible at +1-877-615-1177.